The pasta factory
Arte & Pasta, located in the Vesuvian area, is a company owned by the Ferraro family which has produced bronze-drawn pasta for about twenty years, following the genuine and ancient Neapolitan traditions and putting their trust in the precious collaboration and experience of its master pasta makers.
Its products are particularly appreciated by numerous starred restaurants present throughout the national territory and abroad, and are selected by prestigious distribution chains that promote the quality and excellence of the Italian food craftsmanship.
Each phase of the production is scrupulously followed by highly specialized collaborators; from the selection of the wheat, exclusively Italian, to the processing phase in semolina. From the delicate process of drawing, to the slow drying in thermo controlled cells, up to the packaging of every single pack of pasta made manually to guarantee a further step in quality control.
The result is a product with exceptional organoleptic characteristics that is distinguished by the peculiar porosity of its surface and the typical straw yellow color; the final result is a combination of quality, tradition and art.

"Eating well involves all the senses; it is an emotional experience in which every element binds expertly to the other with the subtle thread of balance"
The Company in Numbers
Our factory occupies an area of 15000 square meters.
It is divided into two units:
The production unit of 2000 square meters
The packaging and storage unit of 4000 square meters
The daily production reaches up to 100 quintals.
The company staff consists of twenty employees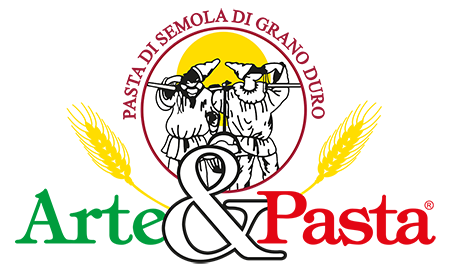 Arte&Pasta Srl
Via Ponte Mastrilli n.18
80041 Boscoreale (NA)
tel 081 8592575